Know Your Alerts and Warnings
Receiving timely information about weather conditions or other emergency events can make all the difference in knowing when to take action to be safe. Make sure you can receive alerts and warnings quickly through several different technologies no matter where you are–at home, at school, at work, or in the community.

For those with access and functional needs, many messages are TTY/TDD compatible and many devices have accessible accommodations. Be sure to share this information with your family, friends, and colleagues.
Outdoor Warning Sirens
Outdoor warning sirens serve to warn citizens who are outdoors that there is a hazardous weather watch or warning, a hazardous chemical spill, or a Chemical Stockpile Emergency Preparedness Program incident. If you hear an outdoor warning siren, you should seek shelter inside immediately. Once inside, you should turn on a television or radio to find out further information.

The system is not designed to be heard inside building walls. For indoor alerting, it is strongly recommended you have a NOAA all-hazards weather radio.
Weather Radio Receiver
The NOAA Weather Radio All Hazards, or NWR, is a nationwide network of radio stations broadcasting forecasts, warnings, and emergency information 24 hours a day. It is a comprehensive weather and emergency information service available to the public. All-hazards messages include weather events, technological incidents like chemical spills, AMBER alerts, and national emergencies. NWR also broadcasts EAS notices.
Opt-In/Sign-Up Text and Email Systems
Many local communities have opt-in public alert and warning systems. An opt-in system means you must sign up to receive the alert. Once you have signed up, officials in your area can send you text or email messages about local emergencies. Most opt-in systems allow subscribers to choose the devices that receive alerts as well as the types of alerts.

To find out what alerts are available in your area, you can do an Internet search with your town, city, or county name and the word "alerts"; you can go to the website for your local emergency management or public safety office; or you can contact these offices by telephone.

FEMA APP
Stay updated with severe weather alerts from the National Weather Service for up to five locations across the U.S.; learn how to stay safe before, during, and after over 20 types of hazards; save a custom list of the items in your family's emergency kit; and locate and receive driving directions to open shelters and disaster recovery centers. The FEMA App is also available in Spanish. Download the app to your mobile device or smartphone free on iTunes or Google Play. Learn more at www.fema.gov/mobile-app.
---
Clark County
Clark County has outdoor warning sirens that are not funded by CSEPP but are used during a CSEPP incident.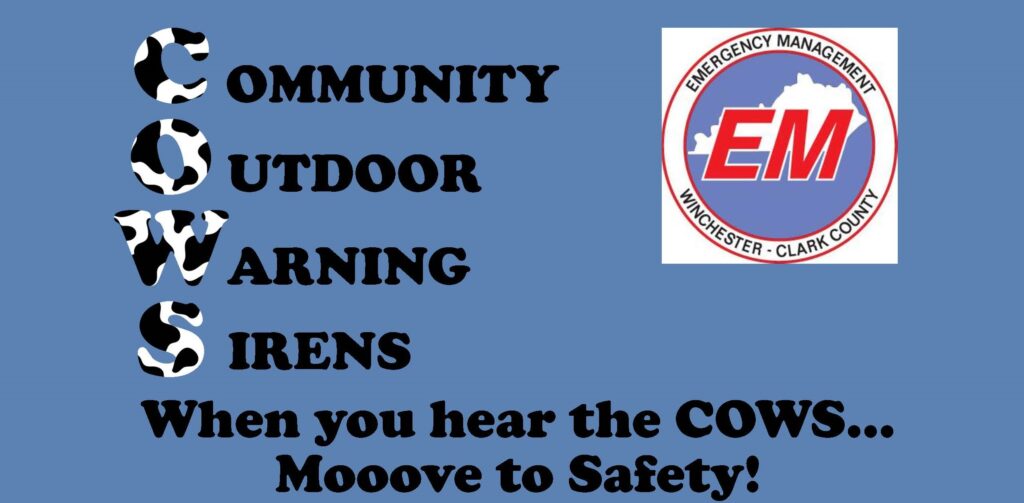 When you hear the sirens… take shelter on the lowest level in the interior of a strong structure away from windows.

Turn on Radio or TV for More Information

Sirens Sound When…
• Severe Weather Warnings (severe thunderstorms &/or tornado)
• Hazardous Material Release
• Chemical Agent Release at Bluegrass Army Depot
• Other Community Emergencies

DO NOT! Call 911 unless you have and emergency

Call (859) 745-7415 for more information or visit Winchester Clark County CSEPP
---
Estill County
Estill County has outdoor warning sirens that are at least partially funded by CSEPP and are used during a CSEPP incident.
Estill County tests the sirens on the second Wednesday of every month. They are only sounded for Tornado WARNING or a CSEPP Incident.
Estill County EMA/CSEPP has partnered with Everbridge to bring you alert and notification services. Registering will allow you to maintain your contact information and to ensure that you receive alerts for the locations in Estill County that are important to you. Improved weather alerting allows you to receive email, text, and phone alerts for weather events. Simply go to the following link to register your alert information, devices, and locations.
Estill County Alert and Notification Portal
If you are an Android or iOS user you can also download the Mobile Member Application which allows you to receive alerts via the app as well as communicate directly from the app to us. In the event of an emergency you can actually send information back to us such as pictures of damage, your status, your location, or any other information you feel is important. You must first register an account at the notification portal in order to use the Mobile Member App.
On Android in the Play Store or in the iOS App Store search for "Everbridge Mobile Member"
Install the application and sign in with the login credentials you created at the notification portal and you will automatically receive the alerts you signed up for at the locations you selected.
---
Fayette County
Fayette County has outdoor warning sirens that are at least partially funded by CSEPP and are used during a CSEPP incident.
The Lexington-Fayette County Division of Emergency Management (DEM) is a division of Lexington-Fayette County's Department of Public Safety. Their BeReadyLexington.com website has specific pages dedicated to:

• Outdoor Warning Sirens: includes a map of all 31 outdoor warning sirens, testing schedule, and sample recordings.
• NOAA Weather Radio: includes directions, depending on the model of radio, to program it with a six-digit code identifying your home county and/or how to select a specific broadcast frequency.
• BeReady Lexington mobile app: download the free app to: share your status with your selected contacts with the push of a button, receive critical emergency alerts, get the latest emergency preparedness news and weather alerts for the Fayette County area, create a personalized emergency preparedness plan, locate Fayette County's emergency shelters, and view up-to-date evacuation route maps.
• Radio Lexington: WQKE-967 (1620 AM) provides public service, tourism, traffic information, and event information/announcements of interest to the citizens of Fayette County. Radio Lexington transmits 24 hours a day/seven days a week.
---
Garrard County
Garrard County has outdoor warning sirens that are not funded by CSEPP but are used during a CSEPP incident.
Garrard County utilizes Hyper-Reach for sending emergency alerts to residents. Signing up for emergency alerts is: easy, fast, and simple. It can save: your life, your family, and your property. Be prepared for…
Floods
Fires
Severe weather
Public health alerts
Criminal activity
And other emergency situations.

Five easy ways to sign up:
2) Go to the Hyper-Reach website: http://hyper-reach.com/kygarrardsignup.html
3) Call: 859-328-5758
4) Text "alerts" to 859-328-5758
5) Tell your Alexa unit "Alexa, enable Hyper-Reach"
---
Jackson County
Jackson County has no outdoor warning sirens.
---
Jessamine County
Jessamine County has outdoor alert sirens that are not funded by CSEPP and are not used during a CSEPP incident.
The outdoor sirens are for public areas, if in a residence or building it is recommended to use local television stations, cell phones or NOAA weather alert radios to follow in case of severe weather.
Jessamine County utilizes Code Red for public notifications. Residents can sign up on the Jessamine County website under Emergency Management.

Jessamine County now utilizes social media for notifications. Join the Jessamine County Emergency Management Facebook Page
---
Laurel County
Laurel County has outdoor warning sirens that are not funded by CSEPP and are not used during a CSEPP incident.
There is one Outdoor Warning Siren in the city limits of London, that is used for Tornado Warnings and tested daily at 12:00pm. There is also one siren in the county at East Bernstadt Fire Department that is a manual Outdoor Warning siren and only used for Tornado Warnings.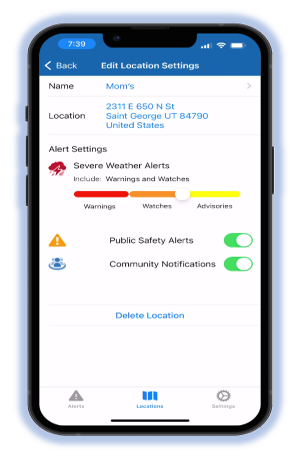 Seconds matter in an emergency.
Receive emergency alerts from local public safety agencies, advanced warning of severe weather, and community notifications that impact you and your family.
Sign up is FREE! Choose when and how you receive alerts (text, email, voice and mobile app options are available).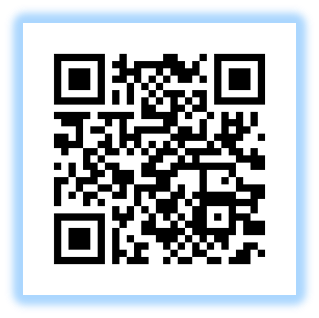 Here's How to Sign Up:
OPTION #1 – Scan this QR code or visit: laurelcounty-ky.myfreealerts.com
OPTION #2 – Download the myAlerts app (QR codes above)
---
Madison County
Madison County has outdoor alert sirens that are at least partially funded by CSEPP and are used during a CSEPP incident.
---
Powell County
Powell County has outdoor warning sirens that are not funded by CSEPP but can be used during a CSEPP incident.
POWELL COUNTY Implements CODE RED Geo Citizens Calling System

The CODE RED Calling System for Powell County is an automated system that calls homes and businesses to notify you about serious emergency situations and severe weather alerts for the citizens, it is direct call from the national weather service when a storm is approaching your physical address, as well as routine community notifications, and has most recently been implemented for our county.
In the event of an emergency, public safety personnel will identify the affected area of the county and activate the system. It will automatically call all telephone numbers within a specified area, or the entire county, and deliver a recorded message.
Sign up today.
---
Rockcastle County
Rockcastle County has no outdoor warning sirens.
---