CSEPP Planning and Research Advisor accepted into EMI's Planning Practitioner Program.
Jasa Connelly, the CSEPP Planning and Research Advisor, was one of 25 people across the nation accepted into the FY24 Planning Practitioner Program (PPP) hosted by the Federal Emergency Management Agency (FEMA) at their Emergency Management Institute (EMI) in Emmitsburg, Maryland.
PPP is a series of two instructor-led courses, and an online capstone course. Each instructor-led course is 5 days in length and held at EMI. Jasa just completed the first course (EO237) this October. The second course (EO238) will take place in late spring 2024 and her capstone project (KO243) must be completed within 1-year after E0238.
Jasa's EO237 course was made up of individuals across the country in different areas and expertise of planning.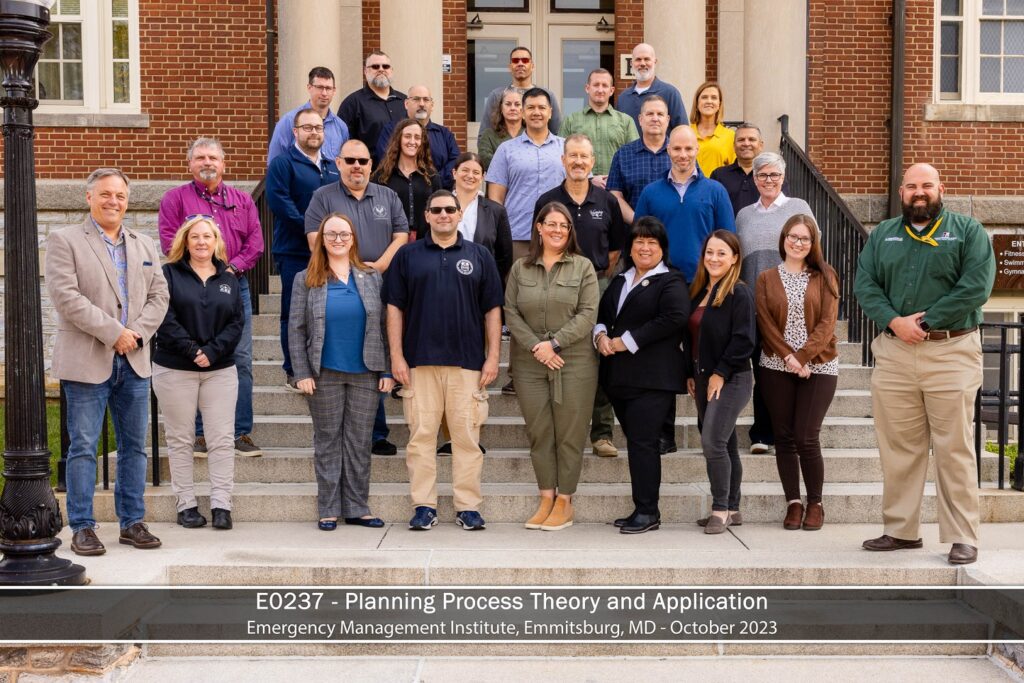 Caption: Jasa, her PPP instructors, and classmates. Jasa is standing in the third row, 2nd from the left.
The instructor-led courses allow planners to further develop their knowledge, skills, and abilities to perform effectively as lead planners and planning program managers. PPP graduates can then apply the concepts learned in the classroom to improve planning activities conducted within their jurisdiction and strengthen the vertical integration of emergency management planning at all levels of government.
Jasa recently returned from completing the first instructor-led course, Planning Process Theory and Application (E0237). E0237 started with an overview of planning and the skills that are needed to make a successful planner. Project management, the theory behind planning, adaptive systems thinking, and the six steps (forming a collaborative planning team, understanding the situation, determining goals and objectives, developing the plan, preparing and reviewing the plan, and implementing and maintain the plan) to planning were all addressed throughout the course. Within adaptive systems thinking, complex adaptive systems, systems mapping, and stakeholder engagement strategies were all discussed. Throughout the course there were multiple tools (Flourish & Chat GPT) identified to assist planners in the planning process.
The networks and connections Jasa made provided a deeper understanding of how planning is done in other jurisdictions. The resources and tools other members in the program used was also incredibly useful to learn and practice implementing during the course.
"This program has allowed me to gain a deeper understanding of the process and theory behind planning, said Jasa, and I recommend applying to any individual in the planning/emergency management field!"
If you are interested in this or any other EMI course offering search the EMI website: https://training.fema.gov/emi.aspx