Integrated Public Alert and Warning Systems (IPAWS) Workshop
31 May 2023
Kentucky Emergency Management (KYEM)
100 Minuteman Parkway
Frankfort, KY 40601
Members from Kentucky Emergency Management (KYEM) in Frankfort and local emergency management personnel from Fayette, Garrard, and Madison counties attended a four-hour workshop on the Integrated Public Alert and Warning Systems (IPAWS) offered in partnership by FEMA and KYEM.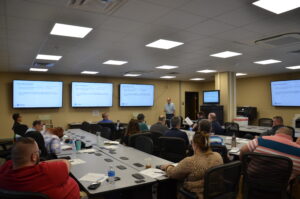 The course was led by Gordon Vanauken, ENP, PMP, PMI-ACP a Senior Project Manager with Mission Critical Partners, pictured above. Dustin Heiser, CEM, KYEM Assistant Director of Operations, made opening remarks.
The course was open to all operational personnel that are involved with the creation and sending of emergency alerts to the public including warning desk operators, PIOs, supervisors, and leadership involved in the alerting process. CSEPP community registrants received registration priority.
The course opened with a general discussion about what is communication and the communication cycle. Communication can be defined as, "The transmission of an idea from the mind of one to the mind of another, with understanding." The communication cycle is a process that describes how communication takes place between two or more individuals. It involves a series of steps that occur in a cyclical manner to ensure effective and efficient communication.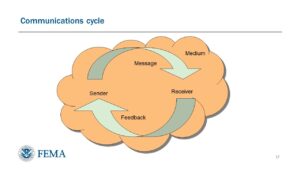 Our instructor led us through a discussion of alerts and notifications. CSEPP guidance says that alert and notification are two separate steps:
attracting the attention of the public (alerting) and
providing specific, appropriate protective action instructions (notifying).
Public education programs should stress this two-step process so that when alerted, people will listen for protective action instructions from designated notification systems.
The instructor, Gordon Vanauken, stressed, effective public alerting should include three things:
Operational objectives – the incident objectives drive the alerting
Proper messaging – The message is effective to drive action of the receiver
Proper technology – Using the best alerting tool for the message and operational objectives
The class was then introduced to the Integrated Public Alert & Warning System (IPAWS) which is FEMA's national system for local alerting that provides authenticated emergency and life-saving information to the public through mobile phones using Wireless Emergency Alerts, to radio and television via the Emergency Alert System, and on the National Oceanic and Atmospheric Administration's Weather Radio.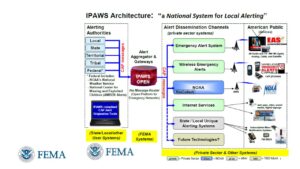 The class practiced developing effective messages. Mr. Vanauken said effective messages should help the public understand the situation and internalize it to take action quickly and reduce milling. The message should include the following information in simple easy to understand language:
Source
Hazard
Location personalization
Consequences
Protective action
Protective action time
How action reduces consequences
Expiration time
The class went on to discuss other systems and means of effective communication. Some examples mentioned:
Emergency Telephone Notification Systems (ETNS)
Press conference
Press release
Roadside message boards
Sirens
Social media
Tone alert radios (TARs)
Mr. Vanauken, emphasized that there is no single alerting tool that will reach everyone. Using a selection of tools to reach the public is more effective for public alerts that pose a danger to the public. IPAWS is a tool that will disseminate to multiple systems, but there are others that should be considered.
One attendee, Jaydan Norris, Director, Garrard County CSEPP said this after the workshop, "The IPAWS course was very beneficial, it's comforting to know our emergency managers have the tools to alert and warn citizens with life-saving information."