Since its inception, the primary goal of the Chemical Stockpile Emergency Preparedness Program (CSEPP) is to educate and enhance emergency preparedness in communities surrounding the chemical stockpile stored at the Bluegrass Army Depot. As operations wind down at the site, local emergency managers and the first responders in the CSEPP Counties used the training from CSEPP to benefit their communities.
On the night of Dec. 10, 2021, deadly tornadoes swept through Western Kentucky, causing an estimated $305 million in damage to homes, churches and businesses in Mayfield, Dawson Springs, Bowling Green, and other communities. In Mayfield, the historic center was leveled, the tornado destroyed 257 homes and damaged another 1,000, according to the city. In the aftermath, CSEPP first responders and emergency managers knew it was an all hands-on deck situation and quickly volunteered to deploy CSEPP assets to help Kentuckians in the disaster recovery effort.
Clark County staff participated in two separate deployments in Western Kentucky. The county deployed two of its Structural Collapse Specialists as part of the Regional USAR Task Force. They conducted technical search operations, looking for trapped occupants, and participated in the heavy clearing operations at the Mayfield Candle Factory. In addition, two Clark County Hazardous Materials Technicians deployed to Graves and Marshal counties to conduct hazard assessments, securing potentially dangerous chemicals, reporting on downed power lines, and damaged infrastructure.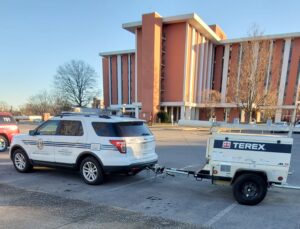 The Lexington-Fayette Urban County Government CSEPP Public Information Officer supported the tornado response as part of the Joint Information System (JIS). Working in the Joint Information Center at the Kentucky Emergency Management (KYEM) Emergency Operations Center (EOC), he also provided remote support. The Regional Urban Search and Rescue (USAR) Task Force that supported the tornado response was led by the Lexington Fire Department.
Garrard County EMA/CSEPP, in support of the recovery efforts after the tornadoes, encouraged locals to donate to, and provided donations in response to WKY communities.
Jessamine County deployed resources from multiple fide departments in support of the tornado response. Jessamine County Fire District, Nicholasville Fire Department, and Wilmore Fire Department all deployed resources for structural collapse support, ground search, as well as structural fire support. Crews deployed to Mayfield, Marshall County, and Cambridge Shores assisting with debris removal and surveys. Jessamine County EMS crews, with some from Everbridge E911, deployed as part of the mass care and transportation response requested by KBEMS. They also provided communication staffing support. Nicholasville Police provided aid in debris removal and clean up as well as overall support of other law enforcement agencies.
Madison County provided one member, as part of an overhead team, to support the Regional USAR Task Force operation that deployed. The Bluegrass Emergency Response Team (BERT) assisted the city of Mayfield and Graves County with USAR efforts at the candle factory. When the team arrived in Mayfield they were asked to support and coordinate the response for the entire county of Graves, working as an incident management team in tandem with the Graves County Emergency Manager.
Rockcastle County CSEPP supplied cots for Team Rubicon, a non-governmental organization (NGO) first responder. This was a partnership with Christian Appalachian Project (CAP). Rockcastle CSEPP was also able to partner with local school systems to use two of the CSEPP trailers to help transport donations that were collected locally.
As we move into storm season, talk to your family about being prepared. Have a family emergency plan and build a family emergency kit. Make sure every member of your family is informed and prepared for an emergency situation. Visit https://prepareky.com/ to learn more.
Guest Contributor: Linda L. Gunter, Creative Services Specialist, Office of External Affairs, Federal Emergency Management Agency FEMA.gov