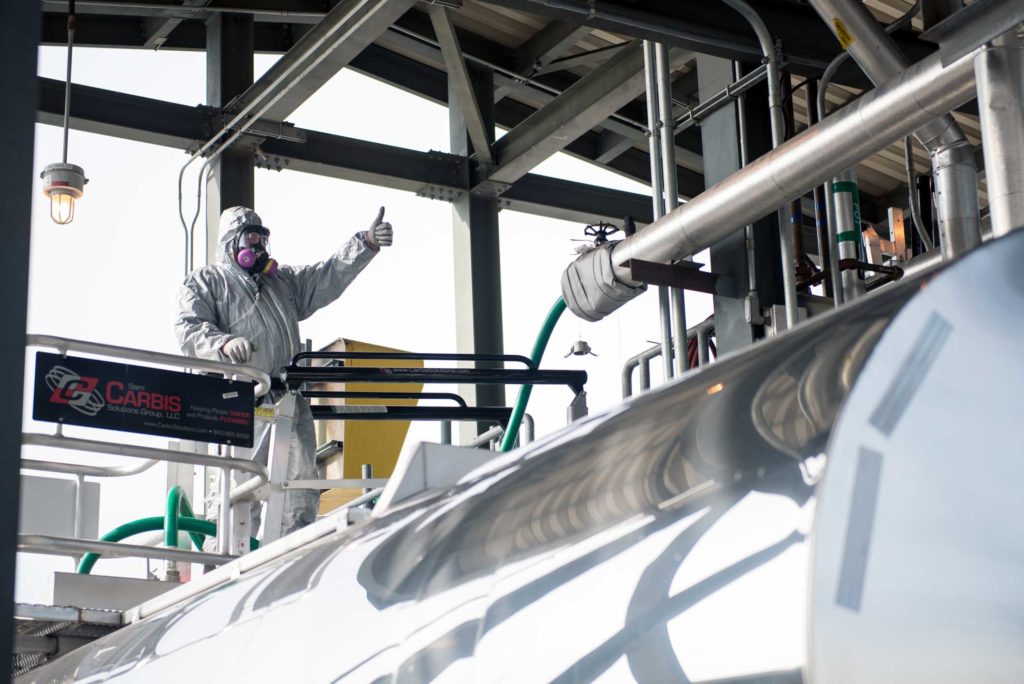 On Oct. 7, 2021, the first shipment of two tankers holding hydrolysate was transported from the Blue Grass Chemical Agent-Destruction Pilot Plant (BGCAPP) and arrived safely at Veolia Environmental Services near Port Arthur, Texas, on Oct. 8.
BGCAPP is destroying the chemical agent stockpile located at the Blue Grass Army Depot, Kentucky. The neutralization of nerve agent produces wastewater known as hydrolysate, which requires further treatment in accordance with the Chemical Weapons Convention.
The Kentucky Department for Environmental Protection approved the environmental permit to ship hydrolysate Sept. 23.
After nerve agent is drained from munitions, it is mixed with hot water and caustic. Laboratory analysts test the resulting hydrolysate to ensure chemical agent destruction before it is transferred to a temporary storage tank to await shipment. Hydrolysate has a high pH, making it comparable to a commercial drain cleaner or liquid bleach.
Bechtel Parsons Blue Grass selected Veolia Environmental Services as its subcontractor to receive hydrolysate. This permitted treatment, storage and disposal facility has received and safely disposed of the same type of waste from several chemical weapons destruction facilities and operations since 2007. A standard industrial hazardous waste incineration process destroys the hydrolysate.
The BGCAPP facility will produce approximately 1.8 million gallons of hydrolysate over a three-year period, requiring about 450 tanker truckloads through the end of operations. Trained workforce members follow all applicable regulations and emergency response procedures with the utmost care and attention to detail when loading hydrolysate.
We will continue to keep you informed about chemical weapons destruction at BGCAPP. More information about hydrolysate shipment can be found online at https://www.peoacwa.army.mil/bgcapp/hydrolysate-shipment/. If you have any additional questions, please contact the Blue Grass Chemical Stockpile Outreach Office at (859) 626-8944 or bgoutreach@iem.com.